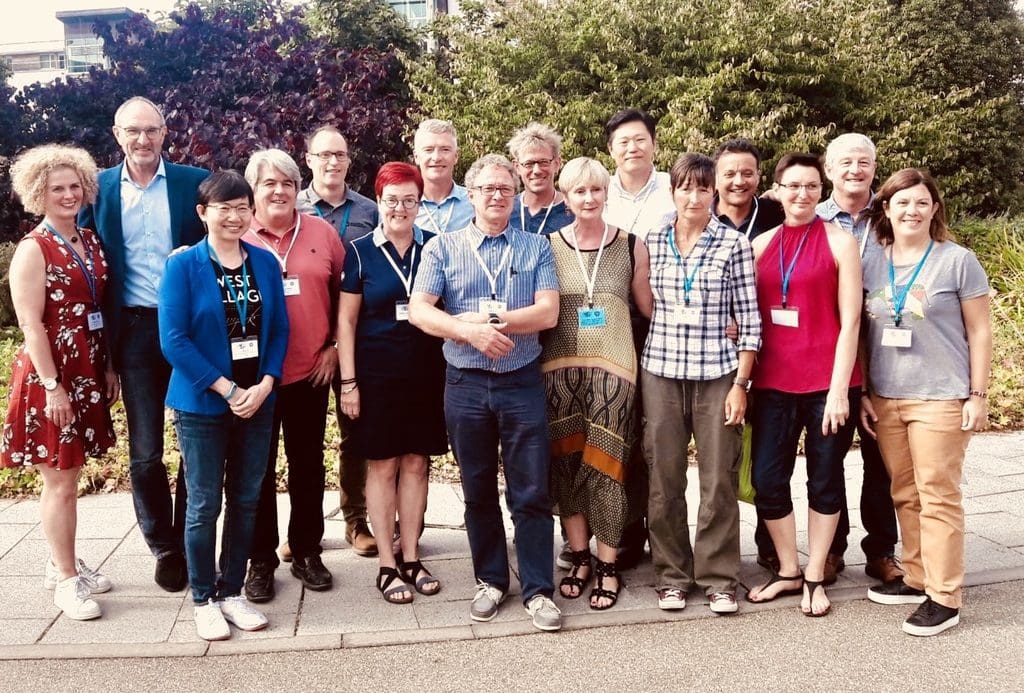 In Madrid (July 2015), the AIESEP board accepted a proposal to establish a special interest group (SIG) for Early Childhood Education to be created under their guidance.  The aim of this SIG is to create an active network of researchers/academics with an interest in issues relating to early childhood education (or referred to as early years), physical activity and health, physical education and physical development.  The SIG has been led since 2015 by Dr Arja Sääkslahti from the University of Jyväskylä (FIN) and has involved a small committee of academics in different countries.
Our vision is for researchers, scholars, practitioners to come together within the SIG with a focus on sharing findings, generating collaborative opportunities for research together, to allow for international comparisons as well as collaborations. 
Our aim is to add knowledge and understanding to the field, about the importance of early years and to fill the gaps in knowledge about physical activity and physical education.
The specific areas that the SIG is interested in are:
– teaching physical education (both physical development and physical education) for professionals working in early childhood education;
– early years physical activity, physical development, health and wellbeing;
– children's development through play.
– children's growth and development
Thinking of joining?
If you wish to join, and interested in researching young children (from 0 to 8 years), please send an email to Dr Kristy Howells, SIG secretary at: earlyyears@aiesep.brainstorm.ie  
News:
If you have News relating to Early Childhood Education Physical Activity and Physical Education, please do contribute to News by sending your information to earlyyears@aiesep.brainstorm.ie
Our past events:
– Thematic session in AIESEP 2017 congress in Guadelope
– Pre congress seminar and symposium in AIESEP 2018 in Edinburgh. The theme of the seminar is "Physical Activity Recommendations for Early Years in Different Countries".  We are currently seeking interested colleagues to join with us in organizing this venture and facilitating the development of the symposium. 
Recent Publications:
"The Early Years Special Interest Group have completed a publication, published by Federation International D'education Physique special edition on 'Researches – Best practices – Situations'.
The publication focused on the physical activity recommendations for early childhood: an international analysis of ten different countries' current national physical activity policies and practices for those under the age of 5.  This type of analysis has not been completed before.  The ten sample countries included (Belgium, China, Denmark, Finland, Germany, Ireland, Italy, Norway, United Kingdom and the United States of America) and questioned whether the global daily physical activity recommendations (WHO, 2010) currently applied at time of analysis are used for the early years' age group on a national level or if they needed to be adjusted in light of the new guidelines. 
The analysis revealed that eight countries have developed their own national recommendations for children below the age of 5, while only two countries do not have any early years' specific physical activity recommendations. The content of physical activity mostly included the total amount and intensity. The total daily amount of physical activity varies between 60 minutes moderate to vigorous intensity up to 180 minutes total light to moderate intensity physical activity. For some countries the daily recommendations are only from age 1 year, not between birth and 1 year, this age range remains unsupported.
The conclusions from the analysis, underlined the need to extend further the new global recommendations to consider how young children's development can be supported in a versatile way by physically active play. Age specific recommendations are offered for appropriate and purposeful physical activity to support overall development. The findings also suggest educational recommendations for staff members to know age specific recommendations to ensure they are able to support young children to reach the recommendations. Research recommendations are also proposed."
The full article is available here: 
Pictorial Scale of Perceived Water Competence (PSPWC) Testing Manual
The Early Years Special Interest Group have completed a technical publication, 'Pictorial Scale of Perceived Water Competence (PSPWC) Testing Manual'. This publication is the first to specifically focus and develop an assessment tool appropriate for young children aged 4 – 8 years old. It aims to address the following specific needs 1) to be accessible to this young age range, 2) to be suitable for children of different swimming levels, 3) cover all the aquatic fundamentals – water entry, breath control, buoyancy, balance, propulsion, immersion, water exit, gliding and vision.
The idea to develop the PSPWC started during the Early Years Special Interest Group meeting at Laramie 2016 AIESEP, which then developed into a larger group of experts in order to develop and present the assessment tool. A four year process of critical analysis, preliminary face-validity, face-validity and content validity were completed in the development of each version of the PSPWC until the final testing manual was completed. Within the testing manual all aquatic skills and test items are represented through visual methodologies of drawings by a professional illustrator. In order to engage young children's interests and to keep their attention to facilitate their understanding and to obtain more meaningful responses.
The testing manual includes 3 level progressions for each situation, skill or test item, level 1 = "not able to do the skill"; level 2 = "skill in progress" and level 3 = "able to do the skill. The 3 level progression was developed as the expert group considered it more appropriate to have a process orientated scale showing a child's developmental progression. The PSPWC can be applied for use in children (measurement of their own perceived water competence), in parents (measurements of their perception of children's water competence) and/or in teachers (measurement of their perception of pupils' / students' water competence.
The manual is available here: https://orbi.uliege.be/handle/2268/246746
Physical activity recommendations for early childhood: an international analysis of ten different countries' current national physical activity policies and practices for those under the age of 5
During the last two decades there have been growing interests on recommendations for children's physical activity. The World Health Organization (WHO) launched the first global international recommendations for children in 2010, focusing on children and youth aged 5-17-year olds. The recommendations were based on the dose-response relationship between the frequency, duration, intensity, type and amount of physical activity needed for prevention of non-communicable diseases. Until 2019, there was a gap in the recommendations, as the WHO did not offer global recommendations for those children under the age of 5 (early years). The new recent guidelines (WHO, 2019) now offer a focused recommendations for physical activity, sedentary behaviour and sleep for under 5 years of age, however what the guidelines do not offer are ways in which early years' practitioners and teachers can support physical activity through play to ensure children are inspired, motivated and competent to have a physically active daily life as well enjoy moving. An international policy and practice analysis, (not previously undertaken), of ten sample countries, was completed of current national physical activity practices. Also, an international comparison of early years' education settings was examined, specifically for those under the age of 5, to investigate current curricula, as well as the qualifications, knowledge and understanding of those supporting children's learning in different cultural contexts. 
Full Chapter can be found here: Link to Chapter